Yes, Pope Francis said that all are 'redeemed'. But is that news to anyone?
Terry Mattingly


There is nothing strange about saying that the sacrificial death of Jesus redeemed all of humanity and all of creation. In fact, Pope Benedict XVI made similar remarks, wrestling with the purpose of the Court of the Gentiles in the ancient Jerusalem temple. So, let's repeat the theological "nut 'graph" in this journalism class.
---
"The Secret of Notre Dame": Cardinal Dolan's 2013 commencement address...
---
9 foods you're totally eating wrong...
---
Ten marks of a good school...
Simcha Fisher


In the last nine years, our family has tried five different types of elementary school: home school, private school, parochial school, public school. and charter school. We're extremely lucky to have found one that works very well for us, and it's hard to imagine switching for any reason other than, say...
---
I was an avid follower of the New Atheists. But when I read the work of their Catholic foes, my life changed forever...
---
"A war between Catholics": Nigerian bishop installed away from cathedral as tribal tensions threaten Church unity...
---
In 1960, ABC (and Winston cigarettes) brought something new to the young medium of television: The Flintstones...
---
The Book of Genesis is true, and the universe is 13.8 billion years old. There is no contradiction here...
Jimmy Akin


Wouldn't it be great if scientists invented a device that enabled us to have a clear window into the past--so that we wouldn't just have to read about the past in books? Instead, with the new device--let's call it a Time Window--we could actually see events occurring in the past in real time, with our own eyes? That would be wicked awesome, wouldn't it?
---
Did Pope Francis really preach salvation by works, and that all men will be saved?
Fr. Dwight Longenecker


The Huffington Post has a screaming headline, Pope Francis says Atheists Who do Good are Redeemed, Not Just Catholics. Vatican Radio reports on the homily here. In a homily at daily Mass in the chapel of the Saint Martha hostel, Pope Francis spoke on the principle that "doing good" is a principle that unites all of humanity.
---
10 things you need to know today: May 23, 2013...
---
"The Coffinmaker": A powerful Memento Mori and winner of Vimeo's Staff Pick award...
---
Help! My kids still aren't Catholic...
---
From the heart of the storm, God has no platitudes, but He offers His participation in the sufferings of the world...
---
Pope makes fourth appeal for Oklahoma tornado victims...
---
The argument today isn't about assimilation. The argument today is about who "gets" America...
George Weigel


With his new book, American Church: The Remarkable Rise, Meteoric Fall, and Uncertain Future of Catholicism in America, mild-mannered Russell Shaw has become the bull in the china shop of U.S. Catholic history, knocking heroes off pedestals and overturning conventional story-lines—all in aid of trying to understand why the Church in America is in a preca...
---
Pope's Wednesday audience: The Holy Spirit gives us unity and courage, but we must pray to Him...
---
I was in legislative session at the Oklahoma state capitol when the sirens went off...
Rebecca Hamilton


We were in legislative session when the sirens went off. For the first time that day, the room fell silent. It was the kind of bottom-dropping out, free-fall silence that occurs when people face their omnipresent dread. Tornadoes are an omnipresent dread in Oklahoma. Their unpredictability...


Sign up for the Catholic Apologetics Academy and learn from experts like Patrick Madrid, Peter Kreeft, and Frank Beckwith...
---
"Who are we before God? What are our challenges?" Francis meets the Italian bishops...
Rocco Palmo


At the close of the Italian bishops' plenary this week in Rome, the home-bench – led by its primate, the Pope – gathered in St Peter's tonight to make a communal Profession of Faith as part of the ongoing Year of Faith. The event marked Francis' first full encounter with the powerful Italian conference, known as the CEI.
---
Don't make fun of renowned author Dan Brown, author of renowned book 'The Da Vinci Code'
---
The media coverage of Pope Francis' "exorcism" isn't journalism. It's just embarrassing...
M.Z. Hemingway


It's kind of charming that all popes have to deal with bad media coverage and global press frenzies. This week we've seen some awful media coverage of Pope Francis, including coverage of his blessing of a man after Mass on Sunday. Part of the blame must go to the Italian press, which really went crazy with the story in a way that might not be prudent.
---
Apologetics is not a telephone game...
Michelle Arnold


There once was a minister who noticed that his little boy and the neighbor kids had decided to put together a funeral for a dead bird they had found. Being the Preacher's Kid, the minister's son was deputed to lead the services. Standing before the tiny grave, shoebox casket waiting to be laid into the ground...
---
It's been one month since two Orthodox archbishops were kidnapped in Syria, and we still don't know who did it...
---
The surprising identity cards of the last two popes...
Sandro Magister


With a delay of two months with respect to the traditional timetable, the 2013 edition has finally been published of the Annuario Pontificio, the voluminous publication that constitutes a sort of who's who of the Holy See and of the whole Catholic Church, at least in its hierarchical component.
---
The Liturgy of the Hours for the rest of us...
Dan Burke


If you're like any number of Catholics, you've heard of the breviary, the Divine Office, and the Liturgy of the Hours. Maybe you've tried your hand at an Hour or two. Maybe you've even succeeded. But maybe, like many of our fellow Catholics, you've failed and given up...
---
Did Pope Francis really say that all atheists are redeemed?
Brandon Vogt


Yesterday, the Internet buzzed about some recent remarks from Pope Francis. A headline at Huffington Post read: "Pope Francis Says Atheists Who Do Good Are Redeemed, Not Just Catholics". A similar Reddit article became yesterday's second most-shared piece. But was the headline right? Did the Pope really suggest that all atheists are redeemed?
---
Pope Francis: Be "salt of the earth" and not "museum-piece Christians"...
---
The last days of Zach Sobiech (1995-2013)
---
The fable of Can and Could...
Stacy Trasancos


This story won't be new to anyone who has read the 1890 elementary textbook, Catholic National Reader, Book Four, but since that number of people may not be very great in 2013, I want to share a charming, poignant story about two people named Can and Could. I took some liberties for brevity. Could held himself in great esteem...
---
Is your city on this list? Here are OSV's Top 10 Catholic Cities in the United States...
---
---
"The Lord redeems all of us. Even the atheists..."
---
Appeals court strikes down Arizona law banning abortions at 20 weeks...
---
Man kills himself inside Notre-Dame cathedral in Paris...
---
Get this entire Catholic website on CD-ROM...

The full contents of the New Advent website are available on CD-ROM. It includes the Catholic Encyclopedia, Church Fathers, Summa, Bible and more — and it's only $19, with free shipping worldwide...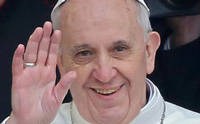 HIS HOLINESS POPE FRANCIS
Twitter:
@Pontifex
Wikipedia:
Pope Francis
SCHEDULE
May 18:
Pentecost Vigil with ecclesial movements (YouTube)
May 19:
Mass in St. Peter's Square (YouTube)
May 22:
Wednesday General Audience (YouTube)
May 23:
Profession of Faith with the Italian bishops (6:00pm)
May 26:
Mass at parish of Sts. Elizabeth and Zechariah (9:30am)
May 30:
Mass in Piazza St. John Lateran, Corpus Christi procession to St. Mary Major (7:00pm)
May 31:
Rosary in St. Peter's Square (8:00pm)
June 2:
Simultaneous worldwide Holy Hour (6:00pm)
June 16:
Mass for Evangelium Vitae celebration (10:30am)
June 29:
Mass and pallium imposition (9:30am)
July 7:
Mass with seminarians and novices at St. Peter's (9:30am)
July 22-29:
World Youth Day in Rio de Janeiro, Brazil
November 24:
Ceremonies to conclude the Year of Faith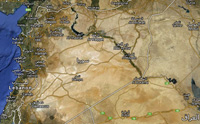 THE SYRIAN CIVIL WAR
Twitter:
#Syria
Wikipedia:
Syria
,
Syrian Civil War
and
Christianity in Syria
News:
The Guardian
,
BBC
,
New York Times
,
Al Jazeera
Give:
Catholic Near East Welfare Association (CNEWA)
and
Catholic Relief Services (CRS)
Pray:
USCCB Prayer for Peace in Syria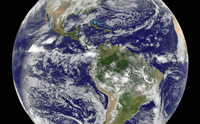 WORLD WIDE WEB
CATHOLIC LINKS
Adoration:
Eucharistic Adoration Directory
Audio:
Lighthouse
-
Audio Sancto
Bibles:
Douay
-
Knox
-
NAB
-
RSVCE
Blogs:
Blog Directory
Bulletins:
Seek and Find
Calendars:
Catholic Calendar
-
Easter Table
Catechisms:
Baltimore Catechism
-
Catechism of the Catholic Church
Events:
Catholic Event Finder
Forums:
Catholics Answers Forums
HHS Mandate:
Becket Fund
Jobs:
Catholic Jobs
Latin:
Ecclesiastical Latin Resources
Latin Mass:
TLM Altar Server Tutorial
-
TLM Mass Directory
Mass Times:
MassTimes
Movie Reviews:
USCCB Movie Reviews
Panoramas:
St. John Lateran
-
Sistine Chapel
Readings:
Today's Readings (USCCB)
OTHER LINKS
Cameras:
EarthCam (Live)
-
Aerial Panoramas
Comics:
Calvin and Hobbes
-
C&H Search Engine
-
Dilbert
-
Peanuts
Customer Service:
GetHuman
Fact Checking:
Snopes
Find Things:
Mailboxes (USA)
-
Payphones
-
Phone Numbers
Money:
Missing Money
Privacy:
Do Not Call
Reading Lists:
Hardon
-
McCloskey
-
USLHE
-
Marines
Scanners:
Air Traffic Control
-
Radio Reference
-
Broadcastify
Shopping (Local):
Milo
-
Yard Sales
Tracking:
Airplanes
-
ISS
-
Satellites
-
Ships #1
-
Ships #2
Travel (Flying):
Turbulence
-
VFR Maps
-
SeatGuru
-
FlightAware
Travel (Hotels):
Bed Bug Registry
Weather:
ECMRF (Europe)
-
NCAR/RAP
-
Wind Map
-
National Weather Service (USA)